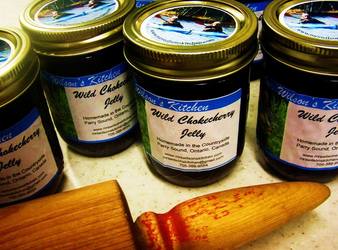 Mrs Wilson bakes her home-made food in a licensed health inspected kitchen.
Our own 100% grass-fed beef and organic chicken is combined with the very best ingredients available to produce our food. We pride ourselves in offering the freshest, cleanest and tastiest food around.

Lasagna is made with double meat and 3 cheeses: Old Canadian cheddar, mozzarella and real Parmesan. Vegetarian and Gluten free lasagna are also available.

Cabbage rolls are hand rolled using our beef, local farm pork and garden cabbage and are naturally gluten-free.

Beef and chicken pot pies showcase our homestead meat encased in Mr. Wilsons home made pastry dough. Just delicious.

Macaroni and cheese is made with pasta shells swimming in a cream, butter and cheddar cheese sauce. Regular and also gluten free.

Every day we bake up fresh butter tarts, and of course, we use real butter.

Lots of fruit pies are bubbling away in Mrs Wilsons oven. Fruit pies change everyday depending on what fruit is available.
Call for today's selections: 705-389-9554